Improved Assessment Experience



Our assessments in Waymaker have had a makeover! In addition to a new look and feel and a better user experience with improved accessibility options for assessments, we have a few other new features we're excited to share with you.
What's New?
Improved User Experience & Accessibility
In addition to new styling, our Show What You Know, Self Check, and end of module Quiz assessments provide students with improved quiz navigation that allows them to move between different questions more quickly and easily. The new question navigation also provides visibility into which questions have been answered and which haven't, so that they can easily jump back to any unanswered questions before submitting.
The assessments now also include an accessibility menu. This menu allows students to set font-size and color scheme for the assessments to optimize their individual experience.
Hiding Study Plan Sections
Instead of deleting a section, the courses' designated editor will now have the option to hide/show section tiles within a study plan.
Hiding a section ensures that content and any related Show What You Know and final quiz questions are hidden from students when they work through the study plan.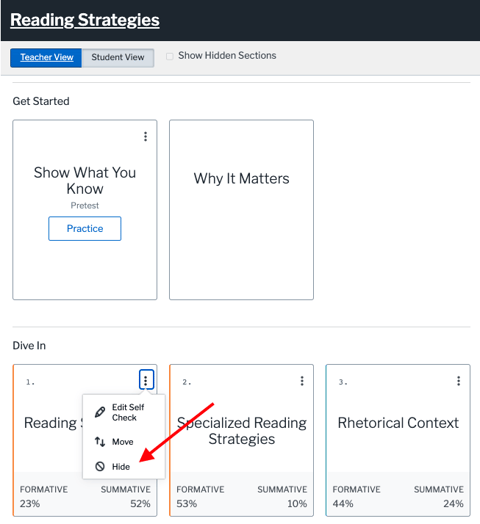 Managing Quiz Attempts
We've improved the layout of the faculty quiz management page and made some feature improvements. In the past, the maximum number of additional attempts faculty could grant a student was two and they were only able to grant additional attempts for a quiz after a student had taken at least one attempt. Faculty can now grant a student as many attempts as they like for a given quiz (before students have even taken their first attempt!).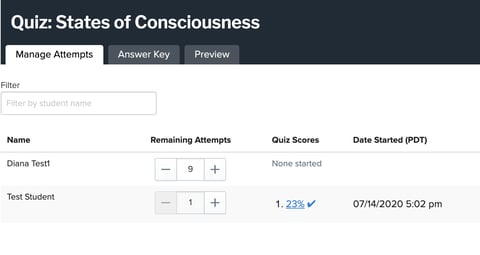 Self Check Outcome Coverage
The self checks at the end of each section will now provide better coverage of all concepts and materials that the student has just completed. Previously, self checks presented three random questions from the section just completed. We've updated self checks so they now pull one random question per each skill level outcome covered by their section.
This means both more accurate study plan sign posting and improved practice and learning reinforcement for students, especially when graded participation is used in your course.
Will This Be Available in My Course? Will I Need a New Cartridge?
Both the improved assessment experience and the features mentioned on this page (like tile hiding) will only be available in the latest version of Lumen's Waymaker courses. Information about supported courses can be found in this article.
Updating your Course Version: What's in the new course version?
Wanting to know what's new in the latest version of your course:
Visit our course catalog (SUNY faculty visit oer.suny.edu)

Find your course and click into it

The page that opens may contain a section called Course Improvements that details what improvements and enhancements have been made in the latest course version.
Have Questions?
We love hearing from you! As always, please feel free to reach out to us with any questions or feedback at info@lumenlearning.com.