Register for Lumen Learning's 2019 Pre-Conference AMATYC Workshop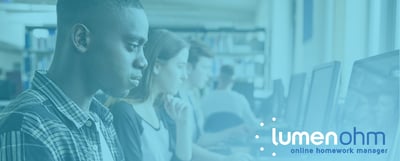 Complete the form below to reserve your spot!
This workshop is available at no cost to AMATYC attendees and there are limited seats. This is your chance to get a guided walkthrough of a low-cost OER online homework system and build out a course that aligns with your course goals.
Details:
What: Workshop where you will create a ready-to-use OHM course that fits your course goals and replaces expensive textbooks and courseware
When:

Wednesday, November 13, 2019 @ 2-5pm Central (one day before the AMATYC 2019 Conference)

Where: Hilton Milwaukee City Center, Walker Room
Who should attend:

Instructors interested in exploring low-cost courseware for

courses in Arithmetic through Calculus

(including co-requisite courses).
Sign up below to reserve a seat in this workshop or to be updated about a virtual option (if you are not attending AMATYC this year or can't arrive by Nov. 13th).
Questions? Contact Paul Golisch at paul@lumenlearning.com OR 480-442-3048.
AMATYC 2019 Pre-Conference Sign Up Form